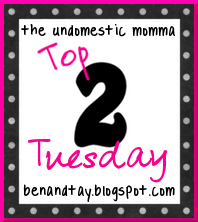 So, I know that today is not Tuesday (thank heavens) but would you mind if I joined in on this one day late? I am jumping on the bandwagon of Taylor @
The Undomestic Momma
. She hosts this "Top 2 Tuesday" and this week it is all Beauty Secrets! I have to admit I love all of your "Top 2's" but this one has been my ALL TIME fav! Who doesn't love lots of GOOD, TRUE advice about beauty products... no need to try and skim through the scams on this one, and about all its
free advice!
Thanks Taylor for hosting this fun Top 2 Tuesday!
I don't have any true
secrets
but I do have some great products that I have grown to love!
1)
Neutrogena Ultra Sheer Sunblock
(in 70 or 80). This lotion is very smooth and anything BUT oily... I use it every morning as my moisturizer (as directed by my dermatologist). It is very light weight and keeps that sun off my face! It even smells good, and not like sunscreen :) About $10 (mine has lasted me a year and I am still using it- a little goes a long way)
2) Also recommended by my dermo....
Jergens Natural Glow
This is a foaming daily moisturizer that "gradually creates natural-looing color" I use it on my face to get a little color and to avoid overloading on the bronzer. It also comes in different shades for lighter to darker skin. I also rub it on my arms and legs on occassion :) Try it out- about $7 at target!
Hop on over to
Taylor's
blog @
The Undomestic Momma
and Link Up to see other great fav's from other wonderful bloggers :)