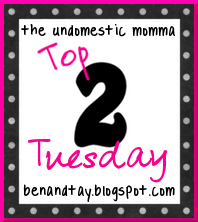 And its that time again! My Top Two Tuesday hosted by Taylor :)
My top 2 Items under 15 dollars...
1)FIBER ONE BARS! Oats and Chocolate... mmm mmm good! You have GOT to try these!! They almost taste like cookies and not to mention they have 35% of your daily fiber needed... perfect for a quick breakfast or just a snack during the day :)
2) DR PEPPER WITH LIME, HAPPY HOUR AT SONIC!
I know I am not the only one who happily awaits Sonic Happy Hour (from 2-4pm) for half priced drinks and slushies. I enjoy a hint of lime in anything.... Beer, Sodas, Chips, ... I could go on and on :) Dr. Pepper is my all time fav though!
So go link up with
Taylor
at
The Undomestic Momma
and see what other great finds fun bloggers like yourself have found for under 15 bucks :)