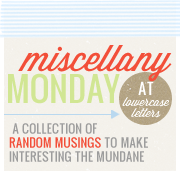 write some randoms, then link up with Carissa at
Lowercase Letters
:)
1) Last night when the hubby got off work we were supposted to go to a friends Christmas party but he got off super late and by the time he showered it was 8:30 and we still had tons to do before today (and leaving town later this week). We decided to get a quick dinner at Chilis -- we both got dressed semi-nicely and enjoyed a great simple date before getting to work!
Margarita chicken... decent- not my fav.
2) we are STILL writing Thank You's from our wedding! We were so BLESSED by so many people giving us awesome gifts it just seems like we can't seem to finish- we WILL this week becuase I refuse to send our Christmas Cards out without finishing the Thank You's first... so yea, thanks keeping me busy too!
3) I had to take my car into the shop today and drop it off :( SAD! Hopefully I will get it back beginning of next year. Now I am driving a seabring... Can't say its my kind of car lol.
4) We are STILL not done with Christmas shopping.... enough said. (This year we are shopping online for 2 reasons. 1- I don't feel like messing with the crowds 2-this way we can ship everything without having to go to the post office- 2 birds with one stone right?)
5)My house will NOT get clean and stay clean and it is driving me C-R-A-Z-Y!!!
We leave for NC soon and I am wanting so badly to have it clean before we go so we can return to a nice house!
6) We are SOO excited about going to NC for Christmas! We will celebrate this Christmas JUST like we started it 2 years ago!! (K and I met on Christmas Eve!) Wow, I can not believe it has been that long but at the same time it seems like we have been together for 10 years :)