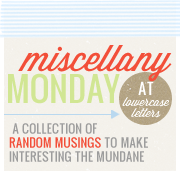 Happy Grouchy Monday to you!!
I'm sure that all of you are having a great Monday but mine started out ... well ... I guess you could say, "On the wrong side of the bed!"
-Dallas got 2+ inches of snow yesterday and freezing rain/snow throughout the night... none of it melted. I thougth for sure that school would AT LEAST be delayed. So 6:30am I check the website that states they will post something around 6:30 and ... NOTHING... so every 5-10 minutes I keep checking and nope. nothing. never. ugh. so finally around 7am I notice that it says all schools are open. UGH! At this point I have dilly-dalleyed for over 30 minutes because I have a 30 minute drive and didn't want to head out only to be called and told to sleep in or something like that. So there yah go, late to work and not happy about having to drive in the sleet/snow/ice/grossness! ESP. since I JUST got my car back last week from being in a 4 car accident all because of ICE on the roads...
luckily God took care of me and I arrived safe and sound. Now just prayers for safe travel home this afternoon!
-My hubby is the BEST!! He had the day off today and he chose to spend it with me, bringing me Chickfila for lunch! Dadgum- he always turns my frown upside down. :)
-Speaking of amazing hubs, he had a job interview this morning!! Yay! I am so proud of him for persuing what he wants to do!
-6 of my kiddos are absent today. Makes my life a little easier. ;)
-Speaking of my kids, time to pick them up from specials and cross my fingers I make it through the rest of the day alive :)
4 days till Friday! :)