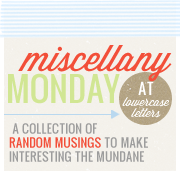 1) SOOO refreshing that we had the day off today!!
2)Very proud of my hubby for getting a new job!
3)dinner with friends (Kris and Erin) and then a fun run to Big Lots afterwards- felt like we were in high school again just roaming the store- :) such good times!
4) I am sooo ready for a day off with my hubby- pray that this will be Sunday! We haven't had a day off in what seems like ages because his current lame job doesn't give him ANY weekends off when one of the guys that works there gets EVERY weekend off. Sorry- don't get me started- one reason I'm glad hes done in 4 days!
5)lovvved catching up with my amazing friend Erin today- even though it was a short convo. I miss her! :(
6)yay for the Bachelor nights... I finally have a trash show to watch ha! I'm loving both girls from Charlotte (particularily the one that got the first impression- loved her before that happened!) ps if you know the "spoilers" for this show- don't tell me! I hate people telling me they read a spoiler site that said "so-an-so" wins... um hello? did I ask?! haha
7)when can i retire? okay i'm out :)
link up :)