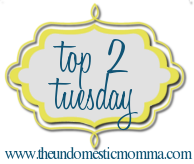 its time to link up with Taylor on Top 2 Tuesdays!! Grab her button and link up!! :)
1) Fiber One Bars- oats and chocolate!
These things seriously taste like HEAVEN!!! they aren't cheap but I always grab them when they are one sale... can we say DELICIOUS!!??
2)I have recently discovered these yummy fruit strips- my kids are always bringing them for snack and I will tell you that they are 100% fruit and taste better than any fruit by the foot I have ever tasted... so healthy, so good! MMMM! (they are a Target brand product- only found at Target- they come in other delish flavors too!)
Okay, now I am hungry! haha Snack time?? Guilt free? That is a yes! with any the two above!!